Bifrost are proud to announce its very first CS GO team. Emil Oliver Hamborgstrøm says: "We are building the future backbone of our CS GO team by an experienced team with strong track record. This is blended with unpolished, up and coming talents. We are a newly established club with long term ambitions. We want to develop new talents and be a club that makes a difference".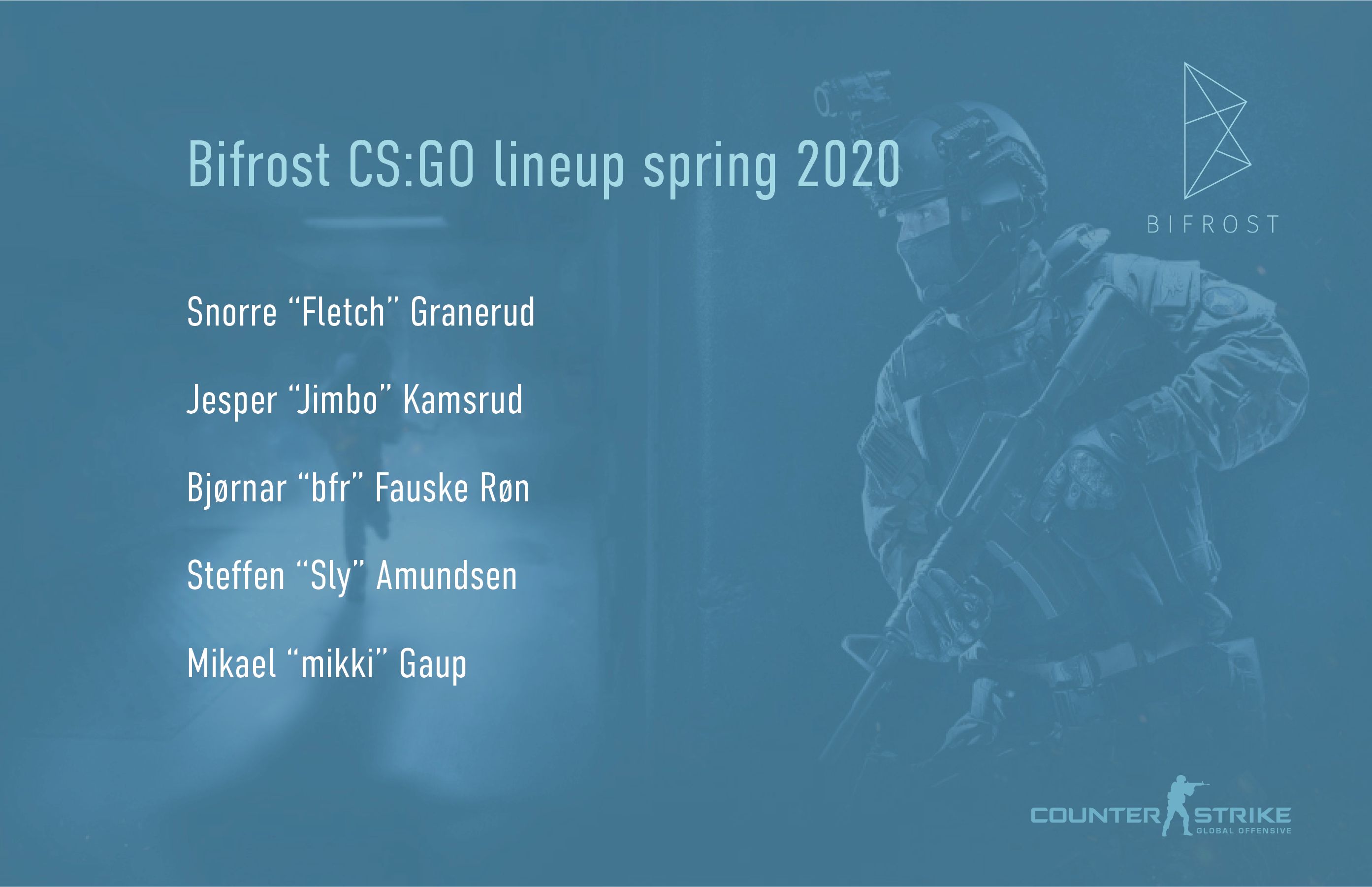 The team consists of:
Snorre "Fletch" Granerud
Jesper "Jimbo" Kamsrud
Bjørnar "bfr" Fauske Røn
Steffen "Sly" Amundsen
Mikkel "mikki" Gaup
Jørgen Larsen is the manager of Bifrost CS GO team. He has been in this game for a long time and is also the founder of Demise, which is merged with Bifrost. Jørgen says: "We have got a very strong team with Snorre "Fletch" Granerud as the captain. We are impressed about the team and their ability to collaborate. They have proven to deliver results and we want to continue building the team. Bifrost have a long term perspective to the team and will also be joining Copenhagen Games. We believe that our strong efforts and hard work will take us a long way." "Fletch" comments on his signing to Bifrost: "The entire CS GO team is very happy to join Bifrost. We are hungry and determined to work hard and create great results. We have strong team dynamic and collaboration. We are commited to put in a lot of hard work and training that will take us to the finals and reach Esea Advanced." About Bifrost esport: Our goal is to be the most desirable club to join for both athletes, fans and partners. With origin in Norway, Bifrost will bring Nordic values to esport. We build on a high degree of trust and history of working together, to create a leading esport team focusing on positive impact. Creating a global movement that other will follow. We believe that maximizing the chance of thriving and great outcomes requires responsible stewardship and clear intentionality. All our athletes, fans and partners will thrive in our collaborative positive and value-based environment"